License
First of all, if you want to try Millumin before getting a license, be sure to download the free trial.
There is no limitation during 30 days, then a watermark on the outputs (but you can still open/save a project and use all the features of Millumin).

Lifetime versus Rental
There is two kinds of licenses :
Lifetime
You get your license for Millumin V4 without no time limit. You also have access to previous versions (Millumin V1, V2 and V3).
When Millumin V5 will be released, and only if you want to use this new version, you will have to pay for an upgrade.
Rental
You get your Millumin license for a fixed period : 7 days, 30 days or 1 year. You can use all versions of Millumin with it.
Purchase
You can purchase such a license on the Millumin website. Payment is processed through e-commerce platform Paddle©. Most common methods are accepted : credit card, bank transfer, Paypal, GooglePay, ApplePay, …
If you choose to pay via a bank transfer, please note that it takes a 3 to 4 days for the payment to be received, thus for the license to be delivered.
To receive a quote, simply start your order and choose "wire transfert" as the payment method : a quote (in the form of a proforma invoice) will be sent to you.
This is not an invoice, but if you accept this quote, you can directly pay it.

During the purchase, you can enter your VAT number (to remove VAT from the price) :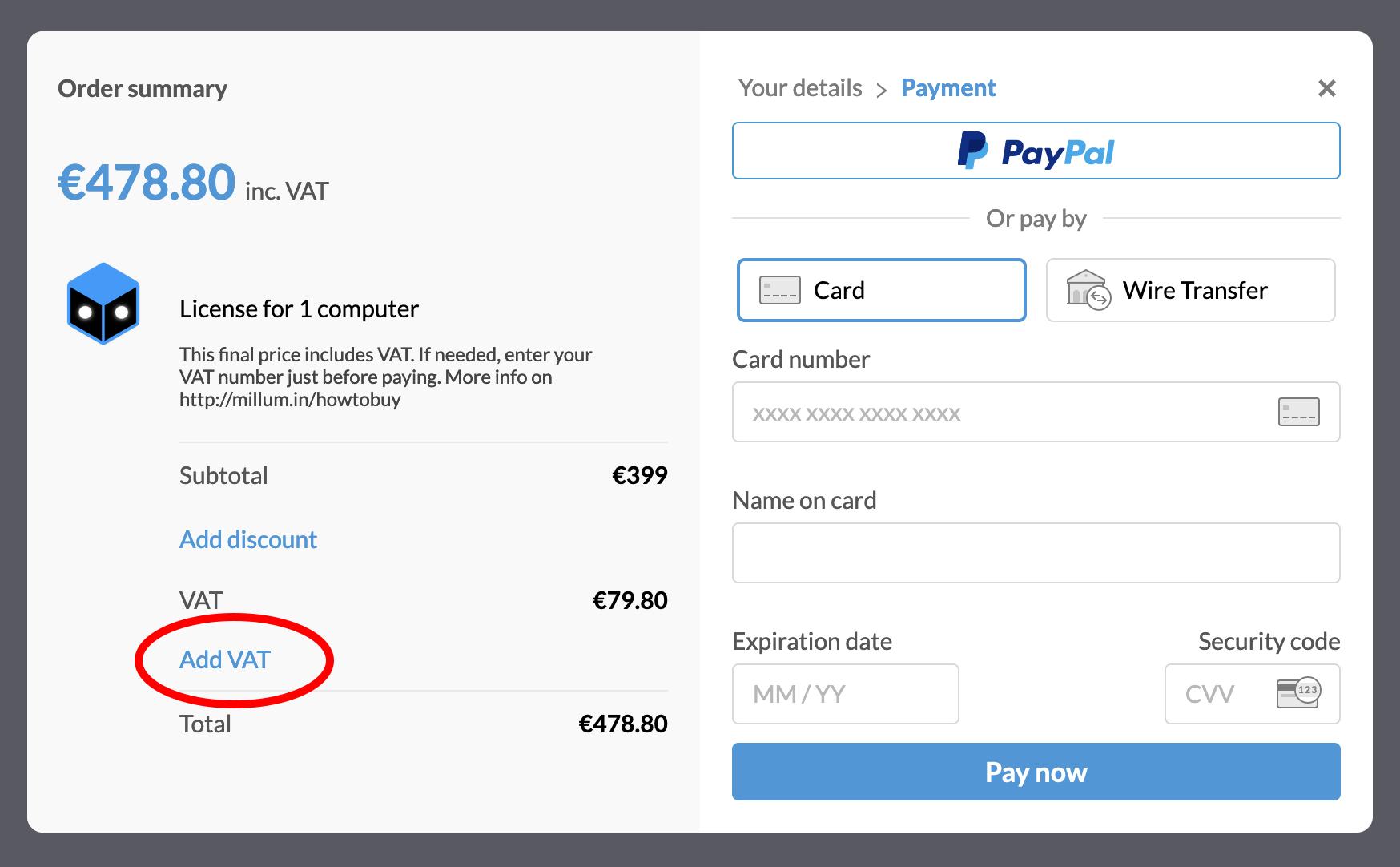 If you forget to enter your VAT number, do not worry, you can do so later.
Indeed, after your payment, you will receive your invoice and your license key via email. This is matter of minutes (except if you paid via wire transfert, please allow 3 to 4 business days in this case).
Then you can update your business address and your VAT number on the invoice, and the VAT will be automatically refunded :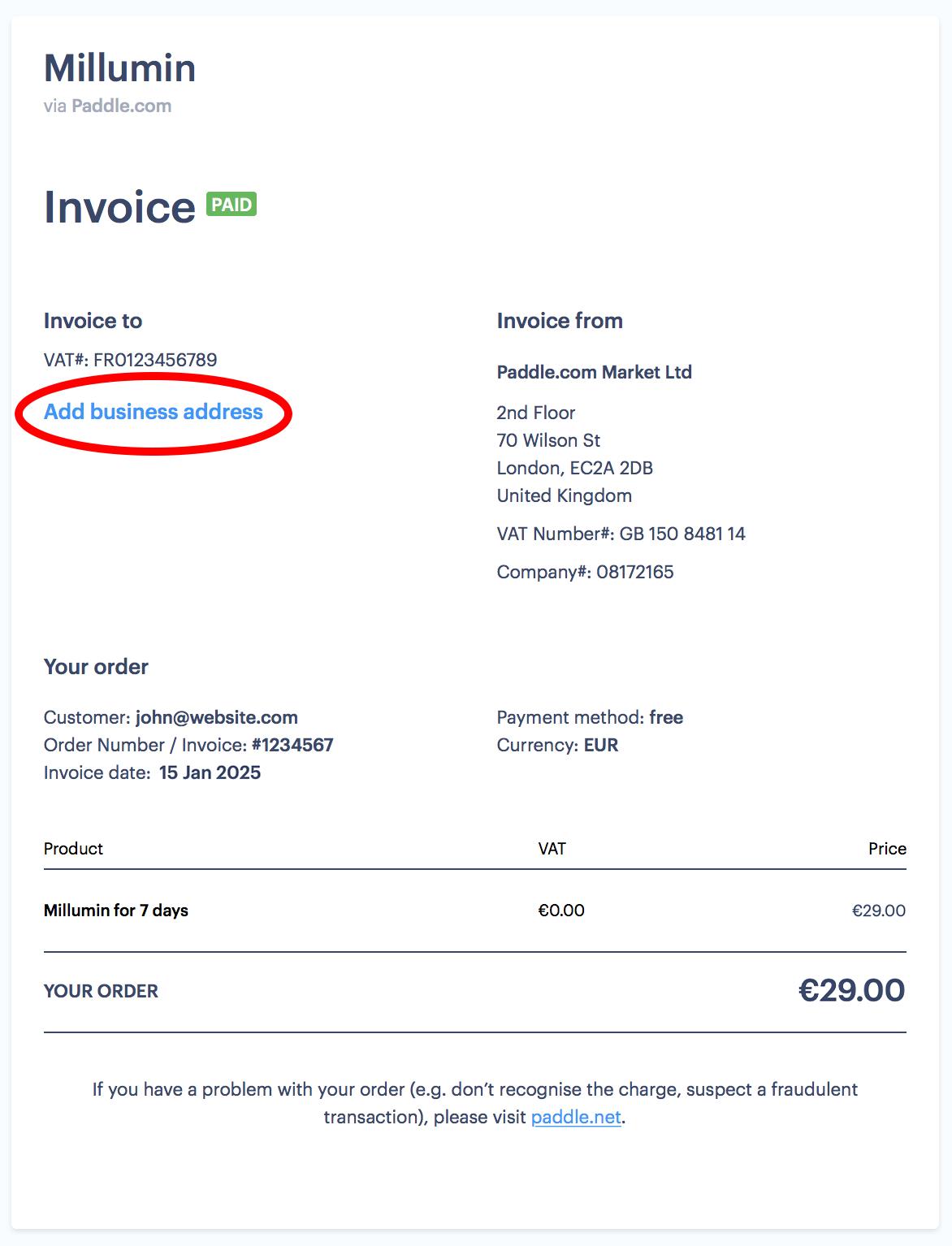 If something is still unclear, please contact our email support.
We would be glad to help you futher.
Upgrades & Additional seats
You can upgrade your license from your account page. Price depends on your current Millumin version.
You can also add seats (to use Millumin on more computers at the same time). You only pay the difference between the price of your current license and the price of the license for more computers. So there is no extra cost.
For example : purchasing a license for 1 computer then purchasing one more seat, is the same as purchasing a license for 2 computers directly.
Management
Millumin uses a simple licensing system : you need to activate Millumin on every computer you want to use.
Each license comes with a number of seats/activations. It represents the number of computer you can activate at the same time. If you reach this limit, you must deactivate a computer to activate another a new one.
Please visit your account page to get all info about your license (especially how many computers are activated and their names).
Activate your Millumin
This is very easy. Run Millumin, open the Preferences (shortcut CMD+,) and select the tab called Activation. Then click the Activate button and enter your license key (you will be asked for your administrator password).

Deactivate your Millumin
In the same Activation tab, click on the Deactivate button and confirm. Millumin will display the number of trial days remaining. If no trial days are remaining, a watermark will appear on the outputs (but you can still open/save a project and use all the features of Millumin).

Emergency Deactivation
If your machine have been stolen or is broken, you can deactivate it from your account page (click the Emergency Deactivation button). Then, you will be able to activate a new machine to replace the stolen/broken one.

Command Lines
If needed, you can activate or deactivate Millumin via the Terminal or a script. This can be useful to automate the process when reimaging a machine :
sudo Millumin4.app/Contents/MacOS/Millumin3 -activate=MYP-ROD-UCT-KEY


Millumin4.app/Contents/MacOS/Millumin3 -deactivate


Common Questions
- If you reinstall or format macOS, no problem, you can reactivate Millumin : the license server will recognize your machine
- If you plan to sell or repair your computer, be sure to deactivate it first (and any licensed software installed on this machine in general).
- If you have an error, be sure the clock of your computer is correctly setup, and the domain wyday.com is accessible (this is the license server).
- If you forgot your license number, you can retrieve it with your email address on your account page.